Select an Instrument that Provides Unrivaled Confidence.
Choose Tap-Tubes for Air, Liquid or Gas Distribution.
Tap-Tubes are copper manifold assemblies with branch fittings or "taps" uniformly spaced along the length. They are used worldwide in all types of industries for the distribution of air, gases or liquids.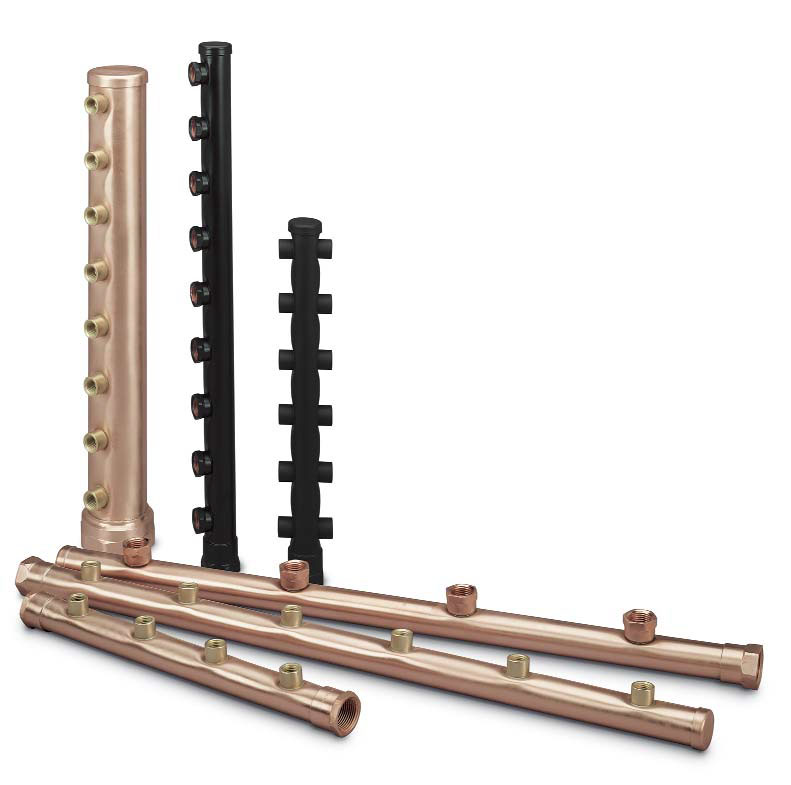 Tap-Tubes Are Cost-Effective
Compared to other manifolds, Tap-Tubes are more efficient and less expensive to manufacture, especially in longer lengths. Long manifold sections made of aluminum or steel require very costly if not prohibitive machine operations; our manifold sections don't. Tap-Tubes are constructed of readily-available, non-corrosive copper tubing. They are very economical to use and the preferred choice where corrosion-resistance and contamination are concerns.
Tap-Tubes are supplied either as factory-assembled manifolds or in convenient stock lengths for on-site fabrication to your own specific needs.
Built-In Durability
Tap-Tubes are engineered and built for optimum performance and long service life in virtually any industrial or commercial environment. The heavy wall thickness and construction are more than enough to withstand pressures as published in this brochure. In addition, to achieve maximum joint strength, areas around branch fittings are flattened to create maximum contact surfaces for brazing. More importantly, forty-five percent silver alloy brazing is used for high-strength, corrosion-resistant, leakproof joints.
Copper is Tops
Our manifolds are made exclusively of copper. Why? For the very same reasons it is used to supply our drinking water – purity and durability! Few metals last longer and resist oxidation or corrosion better than copper. In fact, no other metal is better suited for long-time, continuous distribution of air, gases, and liquids than copper. Steel and especially aluminum, can oxidize very rapidly causing a potential contamination of your fine machinery, processes or manufactured products. If your manufacturing requires clean distribution of air, gases or liquids, you need Tap-Tube manifold sections.
Optional finishes available upon request.

Flat black epoxy paint shown.
Tap-Tubes At A Glance
Pre-fabricated, requires no machining or pipe threading.

Leakproof silver-alloy brazing produces joints stronger than the tubing itself.

Copper construction helps eliminate contamination caused by rust or oxidation as found in steel or aluminum.

Custom sizes without the custom cost.

JIT fast delivery eliminates the necessity of inventory.

Large variety of sizes, styles and configurations to suit specific applications.
Typical Applications
Compressed air and gas distribution.

Water & chemical distribution.

Spray bar for cooling, quenching or paint applications.

Exhaust Collectors.

Custom laboratory applications
Factory-Assembled Manifolds
We can supply assembled manifolds fabricated to your specifications using our standard Tap-Tube sections. Branch fittings (taps) in sizes up to 1" NPT are available, spaced at a selection of intervals. These may be diametrically opposed if more taps are desired, especially in shorter length manifolds. Larger and variable width spacing of taps is available upon request. All standard sized Tap-Tubes are copper and the brazed-in taps are of solid brass. When ordering factory-assembled Tap-Tubes, specify the Tap-Tube catalog number (which identifies the tubing diameter, tap size, and tap spacing), the number of taps required, and the end fittings desired.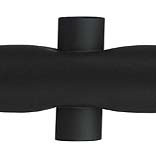 Flattened area around fitting.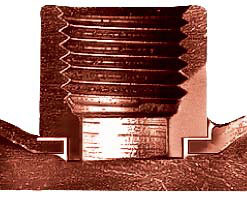 Top and bottom fillets are formed during the brazing process, resulting in a strong and durable seal. Perforated and die formed flat area on tube provides a greater area of contact with fitting.
Select from Our Standard-Line or Build Your Own Custom Manifolds …
Easily, Economically.

Large volumetric ranges available.
Build your own manifolds and save! You can easily construct one or two inch diameter, custom-length manifolds using Tap-Tube components and standard copper water-tube end fittings. It's as simple as cutting off a Tap-Tube section containing the desired number of taps. Use a hacksaw to make a clean, square cut midway between two taps. Avoid using a tubing cutter as they tend to roll over the end of the tubing. This would result in an improper fitting with a consequential reduction in shear strength of the finished joint. Solder-type end fittings are readily available from metal supply or plumbing supply houses in a wide variety. In certain instances, a modification of a commercial fitting may be necessary. In plumbing work, these fittings are customarily attached with tin-lead solder. Accordingly, a long-joint engagement is normally provided for adequate strength. The standard solder-cup depth for 1" tubing is 29/32", and for 2" tubing it is 1 -11/32". Close spacing of branch taps results in a short straight tube section when a cut is made between taps. In a majority of such applications, it is advisable to cut off part of the solder cup, and to braze the joint using silver-alloy brazing for maximum strength.
With silver-alloy (Easy-FLO 45 or equivalent) brazing, the length of engagement recommended is only 1/4", and the resulting joint will be stronger than the tubing itself.

Various styles and configurations available.
Tap-Tube Fittings for a Professional Finish For your convenience, we offer pipe-thread end fittings and caps in the most commonly used sizes. These ready-to-use fittings come with short solder cups and are suitable for attachment by silver brazing for any combination of fabricated manifold assembly. No modification of these fittings are required. For best results and a strong and durable manifold, we highly recommend these fittings and the use of silver brazing in constructing your own custom manifolds.

Our Tap-Tubes are available in larger sizes,including up to 8 foot lengths in 1"and 2" diameter.
Please refer to the Tap-Tube Specifications page for specific sizes.
Tap-Tubes is a division of Machine Craft